Wall cracks

can be caused by structural issues in your home.
They're not always superficial.
Have you tried fixing your home's wall cracks? Or having a handyman fix them for you? 
If they come back again and again, they mightn't be just on the surface. In fact, it's likely they're being caused by deeper structural issues in your home. Here are some of the main causes of wall cracks: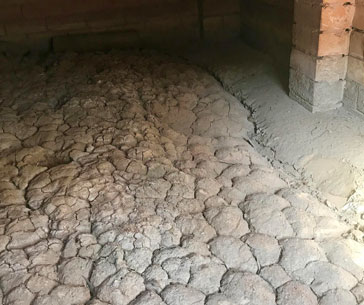 SHIFTING GROUND
Reactive clay soil expands and contracts in different weather conditions. If your home's been built on reactive clay soil, your home's foundation could be moving around throughout the year causing stress on your home's structure. This can lead to wall cracks.
SOIL EROSION
Excess water from bad drainage, local storm water drains and flooding can erode the soil on which your home sits. Erosion of the ground gives your home's foundation a tough time. Stress and tension eventually reveals itself as wall cracks throughout your home.
POOR WORKMANSHIP
Sometimes, contractors take shortcuts to build homes faster. They mightn't have compacted the ground properly or even installed quality drainage. Because of this, foundations can shift and fail, causing wall cracks to appear.
Don't worry. With our help,
permanently

repairing your home structurally won't take long or cost much
With other companies, you'd be right to start panicking. Some companies charge tens or even hundreds of thousands for their structural repair solutions. To make it worse, they take a long time to complete.
But that's not how we charge and that's not how we work. For us to fix your home's underlying structural issues and wall cracks permanently, it will only —
This typically takes no more than one day
Cost between
$4K & $8K
Incl. GST
We're on a mission to help Australian homeowners.
A lot of homeowners with structural problems never receive quality expertise and care. They're also overcharged for solutions that don't last. Their wall cracks keep returning which means the underlying issues in their homes have never been fixed. At some point in the future, these homeowners could be hit with a massive structural repair bill.
We started Buildfix to reverse this problem — both in our industry and to help Australian homeowners. 
We use a forward thinking, innovation based and results focused approach to make sure repairs to your home are permanent. So you don't have to keep spending to keep on repairing.
To give homeowners a higher quality of service at prices they can afford we've:
Created our own proprietary products
Invested in state-of-the-art equipment

Adopted the latest, revolutionary techniques AND created our own
Only employed qualified structural engineers, licenced builders and technicians
How does
Buildfix's

service work?
The way in which we work is simple. 
We've designed our process to make your home's structural and wall crack repairs hassle free. Our inspections cost nothing and we only come at a time that's convenient for you.
Here's an overview of the process.
Step 1: We inspect
After you've booked a FREE inspection, we'll come to your home. 
During the inspection, we'll be looking for the true source of your home's wall cracks. 
We'll explain what's really happening with your home and the solutions in detail. We'll also answer any questions you may have.
Step 2: We quote
We'll tell you how much the repairs will cost and how long they'll take — right on the spot.
After the inspection, we'll send you an obligation free, formal written quote via email within 5 business days. The quote will also include computer-generated drawings for extra transparency.
Step 3: We repair
If you're happy with our proposal, we'll mark a time in our calendar to come and complete repairs at a time that works for you.
We won't charge a cent until permanent repair of your home is achieved and you're happy.
Frustrated by wall cracks?  
 

Worried your home has structural issues? 
Book a FREE inspection of your cracked walls today!
This is what you can expect as part of our service
Fixed, afforable prices
After we've completed your quote, we don't change it. And we don't add extra costs at the last minute. No tricks, no games and no surprises.
Buildfix technicians & equipment for repair
We provide 2 outstanding technicians and any equipment necessary to complete repairs to the highest of standards, quickly
Unlimited materials at no extra charge
We're willing to use as much of our own materials needed to make sure your wall crack repairs are pernament. Our mission is to make you happy.
Repairs are completed on time
Our expertise lets us determine exactly how much time and money it will take to repair your home. We follow through on our quotes and deadlines. This is a promise.
Permanent repairs
Anything we repair or enhance stays that way for good. Otherwise we'll come back to carry out repairs again, free of charge.
10-year warranty

Our warranty covers you for 10 years from the day we complete our work. We're confident in what we do and how we do it. We know the quality of our work will stand the test of time.
To date , we've completed nearly
10,000 repair projects

to the satisfaction of tens of thousands of Australians
These Australians no longer worry about structural problems in their homes. 
Or the ugliness of wall cracks around their homes.
Book a FREE inspection today!