We don't underpin homes.
We offer something better.

If a builder or a contractor has told you your house is suffering from subsidence and sinking, you may have considered underpinning. But conventional concrete underpinning disturbs the physical structure of your house and in turn, your life. With underpinning you're forced to move out of your home for months while massive holes are dug beneath your home.
To make things worse, underpinning is extremely expensive. It can cost between $20,000 to $100,000 to have your house underpinned. It may even be more if your house is a larger one. Underpinning is a cost-prohibitive, invasive and obsolete process.
At Buildfix, we offer a progressive solution that ensures your home's foundations are stabilised for good with no underpinning required. The process begins with an investigative phase in order to prescribe the right repair method for the problem at hand. Overall, our solution costs a fraction of what it costs to underpin. In most cases, our work only takes one day and you don't need to leave your home at all.
Underpinning alternative no. 1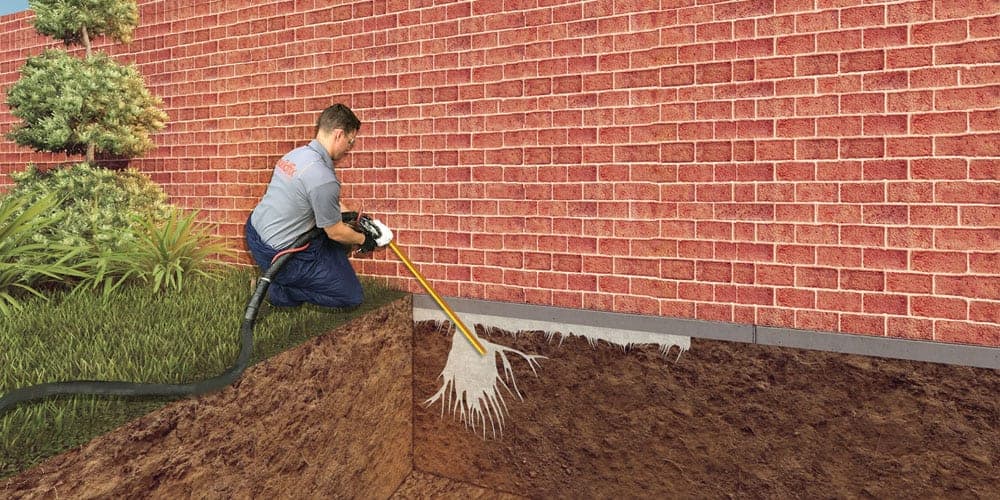 External Foundation Repair
Instead of digging holes and building concrete pins, we inject GeoPoly™ into the ground at strategic points under your home. GeoPoly™, our proprietary geo-polymer resin, fills voids, stabilises weak soil and can raise walls up to 10 mm or more depending on ground conditions.
To inject GeoPoly™, we drill 1 cm access holes about a metre apart through your home's external brickwork until we reach the soil under the wall. Through these holes, we inject the resins at high pressure through a lance into the weak, aerated, eroded soil or voids in the soil.
We monitor the entire levelling and stabilisation process with laser equipment to ensure the ground has been levelled correctly and solid. At the end, we remove the lances from your walls and fill the holes leaving them as if they were never touched.
Underpinning alternative no. 2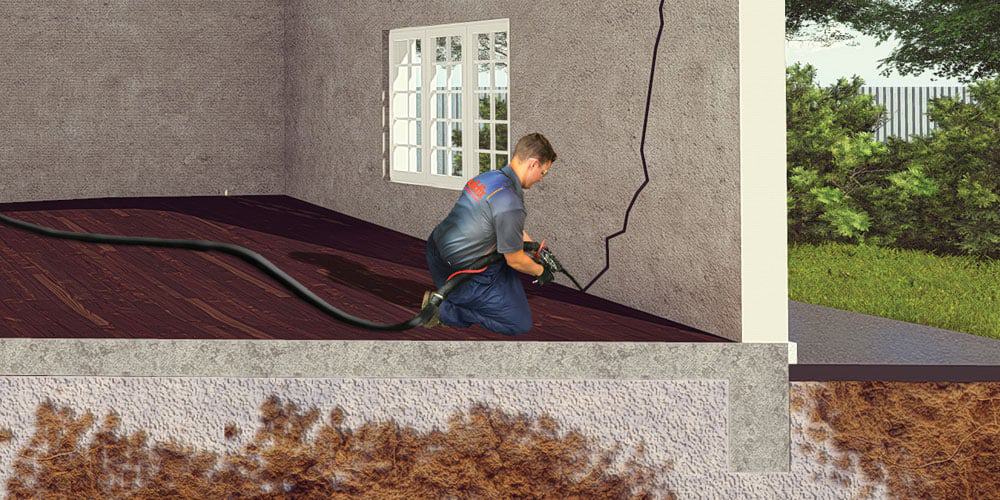 Internal Foundation Repair
Our internal foundation repair process is almost the same as the external one. The difference is we drill the 1 cm access holes internally, from floor level or in a sub-floor space. Once we've reached the soil under your floors, we inject GeoPoly™ at high pressure through a lance into the defective soil or voids.
We monitor the entire process with laser levelling equipment. Once the process is complete, we remove the lances and refill the holes leaving everything looking as new.
Need an 
underpinning alternative

today?
Old-school engineers may prescribe a traditional underpinning solution but it's likely they're not going to guarantee results. In fact, the Australian Standards (AS2870-2011 Appendix B3 Performance of Walls) recommends that underpinning should be avoided when problems appear to be related or brought on by reactive clays.
If you're looking for an underpinning alternative that's reliable, affordable and isn't disruptive, we offer it, starting with a FREE inspection of your house.
When you work with us, we promise
Free structural inspections
We take a look at your sinking house at no charge.
Personal, friendly service
We'll treat your home as if it's ours.
Simple, transparent quotes
Our sinking house repair quotes come with easy to understand computer-generated drawings that detail our proposed solution.
Minimal disruptions to your life
Stabilisation and re-levelling of your sinking house shouldn't take more than a day.
Minimal disruptions to your home
We don't use underpinning and we don't knock down anything.
Affordable pricing
Unlike many other building companies, we typically only charge between $3,000 to $7,000 to stabilise or re-level a sinking house. See our full list of prices.
Permanent fixes
We're thorough in what we do, a sinking house we stabilise stands firm and level for good.
10-year warranty
In the rare case your house sinks again, we'll be back too, at no extra cost.
Book a FREE inspection today!
Book a FREE inspection today!
We're the Experts in Wall Crack Repair, Foundation Stabilisation and Damp Treatment

What you can expect

Simple, transparent quotes

Our quotes are easy to understand and accompanied by drawings detailing our solutions. No technical jargon – we promise.

Fixed, affordable prices

Once the price has been quoted, that's what the job is going to cost. We don't add extra costs at the last minute. No tricks.

Permanent repairs

Anything we repair or enhance stays that way. Otherwise we come back to carry out repairs again for FREE.

10-year warranty

You're covered for 10 years from the day we finish our work.
help and advice
A resource collection of articles, tips and advice