Leaning water tank lifted upright and underpinned
---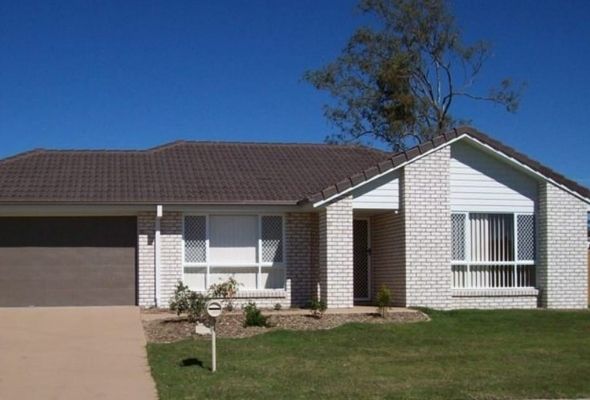 Our Brief
When the homeowners of this rural New South Wales home noticed a sizeable horizontal crack forming on the external brickwork of the house, they were understandably concerned.
Upon further investigation, it became apparent that the house itself was not the cause of the issue; it was the fault of an extended concrete slab holding a 5000-litre rainwater tank - currently at its capacity. The slab showed evidence of being incapable of sustaining the load from the water tank, likely due to poorly compacted soil upon construction, and had dropped by a massive 150mm.
As the slab continued to subside, it was indeed pulling the corner of the home with it - compromising the home's structural integrity in the process.
---
---
Our Challenge
The tank was currently at its capacity, and the water it contained was invaluable to the owners. Also, a recent storm had left the soil surrounding the slab saturated.
The tank had to remain full because of the rural location and the lack of water for the homeowners garden. We were also not going to be defeated by the saturated soil.
Luckily for the homeowners, challenges like these are right up our ally, and we had the perfect solution for the problem - our DeepLift method.
---
---
Our Solution
With the tank leaning so dramatically, the slab needed to be releveled precisely. The poorly compacted soil and subsidence were the sources of all the building's issues; we started by stabilising the ground with our unique DeepLift method.
Our DeepLift method involves drilling small holes in the ground to insert our pipe systems two metres deep. Targeting the weaknesses deep in the soil allows us to cover a broader area. The more coverage we can get, the greater the expansion force we could expect.
Considering the structure's weight in such a small area and the saturated topsoil layer, this was the correct solution. We successfully underpinned and lifted the water tank and the house, leaving excellent results!
---
---
The Outcome
Our priority was to increase the soil's load-bearing capacity to ensure the slab wouldn't subside in the future, save the water, and permanently fix the problem.
Not only did we underpin the concrete slab and save the precious water, but we also lifted it by a whopping 150mm and returned it to the original level. A tremendous result and a huge burden lifted off the homeowner's shoulders.
---