Back to previous projects
Orthodox cathedral's walls in Strathfield repaired without disruption
---
Our Brief
Due for its vicennial check up and maintenance, the Chairman of the church committee of Saints Peter and Paul Orthodox Cathedral, Strathfield, contacted us for an inspection.
After receiving a variety of solutions and quotes from other structural engineering companies, the cathedral committee voted us in as the superior solutions provider.
Ultimately, we were honoured when the Orthodox cathedral's head priest gave us authorisation to carry out fixes on the cathedral.
Constructed in 1954, Saints Peter and Paul Orthodox Cathedral is a relatively modern masonry brick construction. During our preliminary inspection, we found wall cracks throughout the cathedral had emerged, even though the cathedral's age is just a little over 60-years old.
Water rundown stains on the outer walls gave away the source of the cracks. The roof gutters of the cathedral had been overflowing for years, running down the sides of the building and into the ground.
Soil erosion due to overflow was particularly dramatic during heavy storms and had been causing the walls to shift and sink.
---
---
Our Challenge
The primary challenge of the cathedral was in its construction.
The footings of the cathedral were at an unusually deep 1.5 metres, almost double the average modern residential footing depth.
The walls were unusually thick too. At almost three times the thickness of a modern residential building, the cathedral's structure was closer to that of a modern commercial construction.
To get to the bottom of the challenge, we used high powered drills to get deep down into the footings. Despite their unusual depth and thickness, we were able to find the damage caused by water overflow with our drills.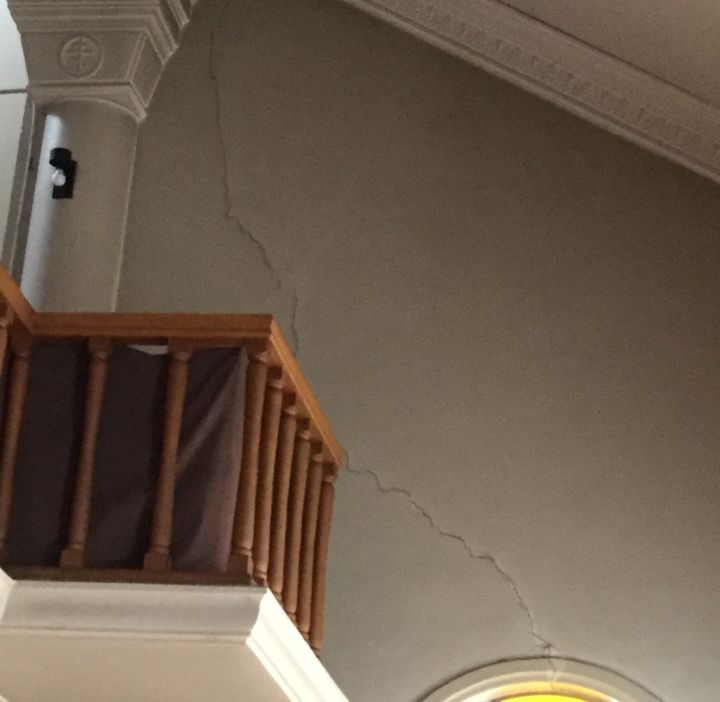 ---
---
Our Solution
We discovered sizeable voids under the cathedral walls. Water overflow from the roof gutters had caused the soil to become aerated and completely eroded. The ground under the walls were subsiding, causing the wall cracks.
The first step was to stop further sinking and cracking.
The voids needed to be filled and the soil needed to resolidified and restabilised. We utilised our own stabilisation solution, GeoPoly™. Injecting the resins into the ground filled the gaps and gave the cathedral walls a strong unmoving foundation to sit on.
To get the walls back into shape, we employed our own HelicalBar™ solution, stitching the cathedral walls back together with masonry beams.
We finally gave the walls a fresh lick of paint.
---
---
The Outcome
In the end, the cathedral ended up looking like it was built just yesterday to the delight of the cathedral's community, committee, and head priest. The best part? We saved them a fortune as well as months and months of time.
If they had gone with any of the other structural engineering solutions, walls would have been knocked down and cathedral operations would have carried on elsewhere – to the frustration of Saints Peter and Paul's congregation.
The cathedral's committee, its head priest and the congregation were able to carry on with almost no disruption at all.
---