How to tell if your house is suffering from
foundational problems

at foundation level
As your home sinks deeper into the ground upon which it's built, structural challenges will reveal themselves visibly, both inside and outside the house. The sinking causes an immense amount of force to be exerted on the house itself, straining your home's floor, walls, ceiling and even the roof.
Sinking is often an indicator of a home suffering from subsidence. If the sinking isn't stopped, these house foundation problems may multiply, which means the cost of repairs will escalate to hurt your wallet. Working out whether or not you're living in a sinking house isn't too hard. Read on for the sure-fire indicators below.
Wall Cracks
Sometimes wall cracks are purely cosmetic. Other times, the cracks indicate structural issues brought on by your house sinking. If your wall cracks appear stepped, appear in both the internal and external walls of your house as well as the corners of walls, your house may be sinking.
Ceiling and Cornice Cracks
Just like wall cracks, ceiling cracks can be superficial but can also indicate deeper structural problems due to the sinking of your home. The sinking places pressure upon the entire house starting in the foundations. This travels up walls into your cornices and ceiling, causing them to crack.
Doors and Windows Jamming
If you can't close or open your doors and windows without them jamming, there's a likelihood the foundation of your home has sunk, unevenly. What was initially level isn't anymore. It's this lack of balance in the structure's foundation that causes doors to hit the floor when you open them or has walls squeezing windows in so they can't move.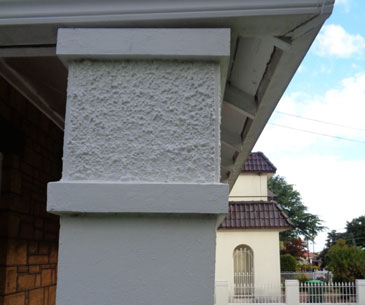 Leaning or Off-Level Walls
The source of leaning or off-level walls is the same as jammed windows and doors. As your house sinks, the unevenness of your home's foundations can cause walls to lean one way or another. Leaning or off-level walls are horribly dangerous if left unchecked and unfixed. They have the potential to fall over and cause injury or even death.
Sloping Floors
If you have sloping floors, the reason is again, unevenness in the foundations of your home due to sinking. Your floors will slope as one side of the house sinks downwards more than the other. To double check for a sloping floor, just place a ball on the floor and see if it rolls away from you. If it does, it's likely you're in a sinking house.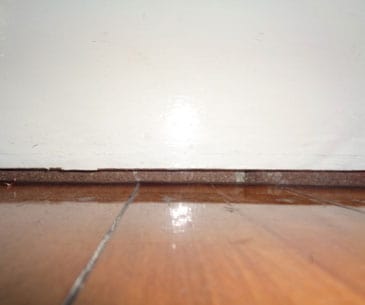 Gaps Between Walls & Floors
As the foundation underneath your home sinks, the floors pull away from the base of your interior walls causing gaps to appear. The sinking of your home may also result in a floor that becomes bouncy as you walk upon it. This is likely caused by the ground pulling away from the upper parts of your home's structure. This is dangerous because this indicates your floor's support system is beginning to sag and weaken.
Need to stop your house 

sinking

 further?
If your home is showing any of the indicators mentioned on this page, you may be living in a sinking house. For safety's sake, it's worth having your house double-checked. We'd be happy to inspect your house for FREE.
When you work with us, we promise
Free structural inspections
We take a look at your sinking house at no charge.
Personal, friendly service
We'll treat your home as if it's ours.
Simple, transparent quotes
Our sinking house repair quotes come with easy to understand computer-generated drawings that detail our proposed solution.
Minimal disruptions to your life
Lifting and stabilisation of your sinking house shouldn't take more than a day.
Minimal disruptions to your home
We don't use underpinning and we don't knock down anything.
Affordable pricing
We aim to offer the most competitive prices around. If our price isn't the lowest, we promise to beat any like for like quote by 5%.
Permanent fixes
We're thorough in what we do, a sinking house we stabilise stands firm for good.
10-year warranty
In the rare case your house sinks again, we'll be back too, at no extra cost.
Book a FREE inspection of your sinking house today!
Book a FREE inspection of your sinking house today!
help and advice
A resource collection of articles, tips and advice