How to Spot Rising Damp
What is it and what are the tell-tale signs?
Book now for a FREE inspection
Rising damp is a term used to describe the process by which porous masonry such as stone, mortar and brick, absorbs water from the ground. The 'damp' itself is sucked upwards from the ground, into your walls.
Most porous masonry is full of capillaries. Even modern air-fired bricks, while densely packed, are still fill of capillaries. These capillaries turn the masonry into sponges that draw moisture out of the ground. If you're wondering how to spot rising damp, here are some of the telltale signs.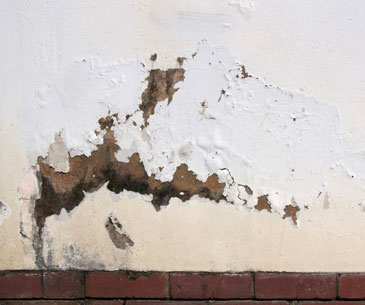 Flaking, Blistering or Powdery Paint
One of the easiest ways to spot rising damp is to look out for flaking, blistering or powdery pain. Paint needs a dry surface to adhere to but damp works against this. As your porous masonry walls absorbs water out of the ground, the walls become drenched with liquid, salts and minerals. This damp interferes with the surface the paint is trying to adhere to, causing major damage to the aesthetic quality of your walls.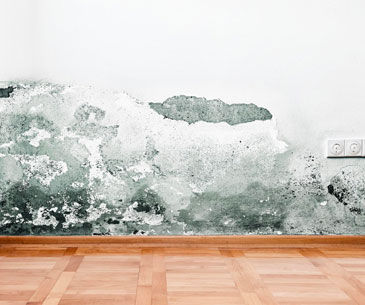 Mould
Deep down in the foundations of your home, the moisture that your porous masonry has drawn from the ground has nowhere to escape. As a result of being unable to dry up, the base of both your interior and exterior walls may have developed a dark green or even black mould. If you spot mould localised around the base of your interior walls, the likelihood of rising damp is high.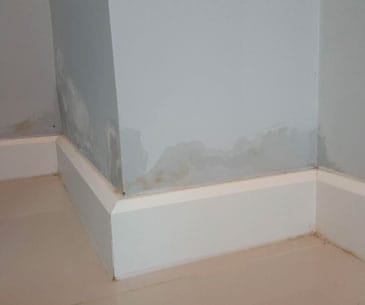 Yellow or Brown Tide-Like Stains
If your walls are showing yellow, wavy, tide-like stains, it's likely you have a damp issue. When porous masonry soaks up water, it draws salts and minerals out of the ground too. The wavy stains indicate that some of the moisture has had a chance to dry a little. The yellow, tide-like stains are the salts and minerals left behind. But don't be fooled. Your porous masonry will still be soaked through and damaged on the inside.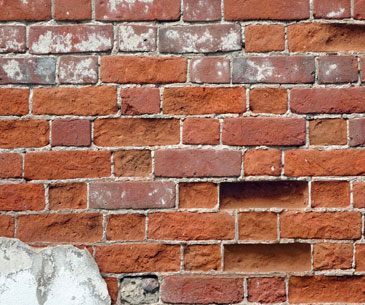 Structural Damage
One of the simplest ways to spot rising damp is to look for structural damage to your walls. Having drawn water out of the ground, your masonry has trapped salts and minerals. Under varying weather conditions over time, the salts and minerals expand and try to work their way out of the masonry. This causes it to disintegrate into dust from the inside out. The salts and minerals also eat away at the mortar joins between bricks turning your home's walls into a crumbling mess.
You Feel Sick at Home
As capillaries in the porous masonry suck more and more moisture out of the ground, it becomes heavily loaded. This turns your masonry into a hotbed for bacteria. Mould and thousands of other microorganisms flourish in environments such as these. They bring about allergies and asthma which can result in wheezing, coughing, tightness of the chest and shortness of breath.
Need our help identifying
rising damp?
Seeing some of the symptoms on this page around your house but still unsure? We'd be happy to help you spot rising damp for what it really is with a FREE inspection.
When you work with us, we promise
Free structural inspections
We take a look at your home at no charge.
Personal, friendly service
We'll treat your home as if it's ours.
Simple, transparent quotes
Our quotes come with easy to understand computer-generated drawings that detail our proposed solution.
Minimal disruptions to your life
Repairs to damaged walls shouldn't take more than a day or two.
Minimal disruptions to your home
We don't damage your home by installing physical membranes.
Affordable pricing
We aim to offer the most competitive prices around. If our price isn't the lowest, we promise to beat any like for like quote by 5%.
Permanent fixes
We're thorough in what we do, the walls we fix, stay fixed.
10-year warranty
In the rare case damp returns, we'll be back too, at no extra cost.
Book a FREE inspection to spot rising damp today!
Book a FREE inspection to spot rising damp today!
help and advice
A resource collection of articles, tips and advice